It's been quite a while since our last post, sorry for that! In the meanwhile, we have published an early preview of the auto-tagging rules feature on the forum. The feedback was extremely useful, and we're now deep in implementing the suggested improvements.
If you're curious to know how the rules will work and want to take a look at the aforementioned beta, you'll be able to find it on the forum. But please be warned that this is a very early preview and is very rough around the edges! Please never use beta versions with your actual notes.
The rules are an extremely powerful feature, but this also means that it should be implemented with care, and we want to make sure that user data is safe no matter what. So we're taking our time here. But as we're already for more than a month without a release, we thought that now would be a good time to pack all the accumulated fixes and enhancements into a new minor release.
So, here's what's new in version 3.1.4:
Ability to Save to Disk Multiple Attachments at Once
It was rather awkward that you could attach several files to a note in one step, but couldn't do the reverse and had to save them back to disk one-by-one. Not anymore: just select the attachments and choose "Save" in the context menu.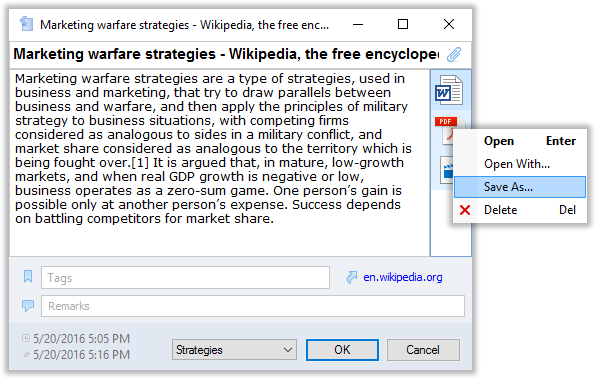 Export, Print: Selecting/Deselecting All Fields with a Single Click
Another minor convenience which was lacking is the ability to quickly toggle the selection of fields in the Export and Print dialog windows.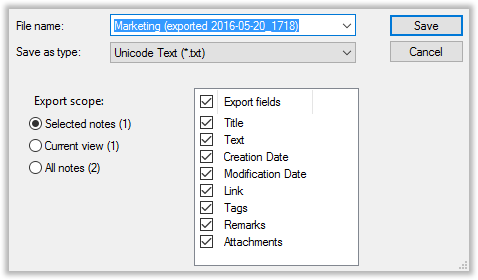 Other changes
Editor: added cintanotes.settings option to copy text without formats ("editor.copyplaintextonly")
Improved speed of replacing tags in case of large number of notes and deeply nested tags
Many other fixes (see release notes).
Hope you enjoy this release! And please stay tuned for the news about the upcoming version 3.2 with the Rules feature.